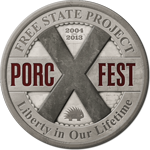 We're about to head up to the 2013 Porcupine Freedom Festival in Lancaster, New Hampshire! Our volunteers are ready to help with first aid, we've refreshed our first aid supplies, and we've got Fr33 Aid shirts and sweatshirts for sale! Some examples of complementary items we'll have available this year are: assorted bandages, kids & adults sunscreen, ice packs, over-the-counter pain reliever, allergy meds, antacids, condoms, tissues, cough drops, disposable toothbrushes, ace bandages and splits. That's just the tip of the iceberg.
Fr33 Aid will be holding several hands-on CPR workshops and Fr33 Aid's Stephanie will teach a yoga class (see the PorcFest schedule). Stop by our booth anytime during daytime hours to see a demonstration of how to use a cardiac defibrillator! We are very excited about PorcFest this year. Stop by and see us at Agora Valley site 2 (same as in the previous 2 years). If you need help at the festival our contact info will be listed on yellow signs around the campground, and on our tent during nighttime hours you will find a sign that tells you how to reach a volunteer on call.
We thank you in advance for your generous support of Fr33 Aid – we couldn't do this without your help! We'll have QR codes available for you to send bitcoin, as well as our physical tip jars throughout the campground. This is the first year we'll be expecting to do most of our transactions in bitcoin, and want to let you know that if you donate to Fr33 Aid using the Lamassu BTC machine, your donation will be matched to the Free State Project – and vice versa! See you at PorcFest!